Dicing
We propose dicing with the optimum construction method from the viewpoint of both quality and cost.
Blade dicing
Various blades and processing conditions are

prepared

and it is possible to handle from a wide scribe width (150um) to a narrow scribe width (40um).

Dicing experience with thin wafer (t70um).

Owns the condition to suppress corrosion of aluminum pad.

Corresponding size : 4inch - 12inch.
Stealth laser dicing
Technology that locally performs laser processing inside the material and divides the substrate by expansion.

Since it is not necessary to use water like blade dicing, stealth laser dicing, which is a dry process, is effective for wafers with fragile structures such as device using thin film.

Compared to blade dicing, backside chipping is extremely small, making effective use of the back side possible.

Corresponding size : small piece -

8inch.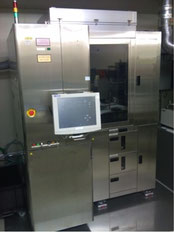 Water jet laser dicing
It is a hybrid processing equipment combining blade, water jet, laser.

Since the laser beam is reflected within the water jet and irradiated to the work, there is no need for focusing.

Ideal for wafer dicing with back metal.

Corresponding size : 4 - 8inch.
Performance
SiC

, alumina (purity : 99.5% or less), silicon nitride

LED wafer

Back metal wafer (Al-Si) (Ni-Si) (Cu) etc.
For details about water jet laser dicing, please click here